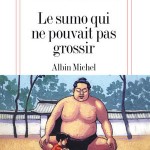 Bar Leadership : Your career takes off here.
Le Sumo qui ne pouvait pas grossir by Éric-Emmanuel Schmitt is an inspirational tale of a scrawny young man whom a mentor picks out of the gutter to train as a sumo wrestler.  As a metaphor for the career of a lawyer, it is applicable to any of us, and certainly for yours truly.  "Many good and some great advocates have been made out of unpromising materials," said Justices Reid and Holland in their classic lawyer-mentoring book, Advocacy: Views from the Bench.  "Yet the capacity for passionate pursuit of success the best advocates must have overcame those obstacles and lifted them to the top."  They were talking about barristers, but their words are equally applicable to solicitors, practicing in all branches of law.
The question is: how do I get there from here?  The previous page of this site describes the purpose of posting articles about questions young lawyers have but often are afraid to ask.  But law is so much more than watching your derrière, or spending decades watching others', for that matter.  At some point along the way, you will experience the warmth and collegiality of a noble and fearless profession.  Become a bar leader, trusted by your clients and admired by your peers.  You have to want these things, but in this age of a fragmented bar it is hard to know where to turn.  Posts on this site include, for example, an article on Becoming a Bar Leader in Three Easy Steps.  Or Making a memorable 30-second speech.
Bar leadership will also expose you to a unique perspective on the profession and the law, not unlike that of elite scientists and quantum physics.  The closer you get to universal first principles, the ties that bind the corporate tax specialist to the Crown attorney become more apparent.
Get outside yourself, and get excited
The independence of the bar, access to justice for middle-income Canadians, articling v. restraint of trade.  Think about these topics and you will gain a sense your place in the world.  To start, just pick one and get passionate.  You'll soon find yourself the go-to lawyer.
Example topics:
Bringing Ontario's lawyers together, Briefly October 2010
The End of law societies, Briefly Dec 2010
Affordable justice, Briefly Feb 2011
The Sacredness of privilege, Briefly April 2011
Teaching ethics to grown-up lawyers, Briefly June 2011
Lawyers in the public eye, Briefly August 2011
Leadership comme avocat
Le Sumo qui ne pouvait pas grossir d'Eric-Emmanuel Schmitt est un conte d'inspiration d'un jeune homme maigre dont un mentor choisit pour former comme un lutteur de sumo. Comme une métaphore de la carrière d'un avocat, elle est applicable à chacun d'entre nous, et certainement pour votre serviteur. "Beaucoup de bonnes et d'autres grands avocats ont été réalisés dans des matériaux peu prometteur," a déclaré les juges Reid et Holland dans leur classique livre de mentorat:  Advocacy: Views from the Bench.  "Pourtant, la capacité de recherche passionnée de la réussite des meilleurs avocats doivent avoir surmonté ces obstacles et leur levée vers le haut." Ils ont parlé des avocats, mais leurs paroles sont également applicables aux avocats, exerçant dans toutes les branches du droit.
La question est: comment puis-je y arriver d'ici? La page précédente de ce site décrit l'objectif de publier des articles sur des questions de jeunes avocats ont, mais ont souvent peur de demander. Mais le travail d'un avocat est d'autant plus que de regarder votre derrière ou ceux des autres. À un certain point au long du chemin, vous ferez l'expérience de la chaleur et de la collégialité d'une profession noble et courageuse. Devenir un leader, la confiance de vos clients et admiration des collègues. Vous avez à vouloir ces choses, mais dans cet âge d'une barreau fragmenté, il est difficile de savoir où se tourner.  Messages sur ce site incluent, par exemple, un article sur Devenir un leader du Barreau en trois étapes faciles. Ou Un mémorable discours de 30 secondes.
Le leadership également vous exposera à une perspective unique sur la profession et la loi.
Sortez-vous
L'indépendance de la barre, l'accès à la justice pour les Canadiens, stages c. le commerce. Pensez à ces sujets et vous gagnerez un sentiment de votre place dans le monde. Pour commencer, vous n'avez qu'à choisir une et se passionner.
Sujets Exemplaires:
Avocats d'Ontario, ensemble!  En Bref oct 2010
La Fin des barreaux?  En Bref Dec 2010
La justice pour tous?  En Bref fév 2011
Pourquoi le privilège est sacré, En Bref avril 2011
Enseigner le professionalisme, En Bref Juin 2011
Avocats publiques, En Bref août 2011